A strong storm passed through much of the Dallas-Fort Worth area Tuesday night, producing a tornado a little before 9 p.m. through the city of Arlington, the National Weather Service confirms. So far, only three people have been taken to local facilities for storm-related injuries, all of which authorities describe as minor. Damage, however, was reported throughout the east side of the city, officials said, with the worst of it around Colorado Lane and South Cooper Street. Around 75 families have been displaced from their homes as a result. A survey team will go out around 9 a.m. Wednesday morning to determine the path of the storm, its length, and rating, NWS officials said.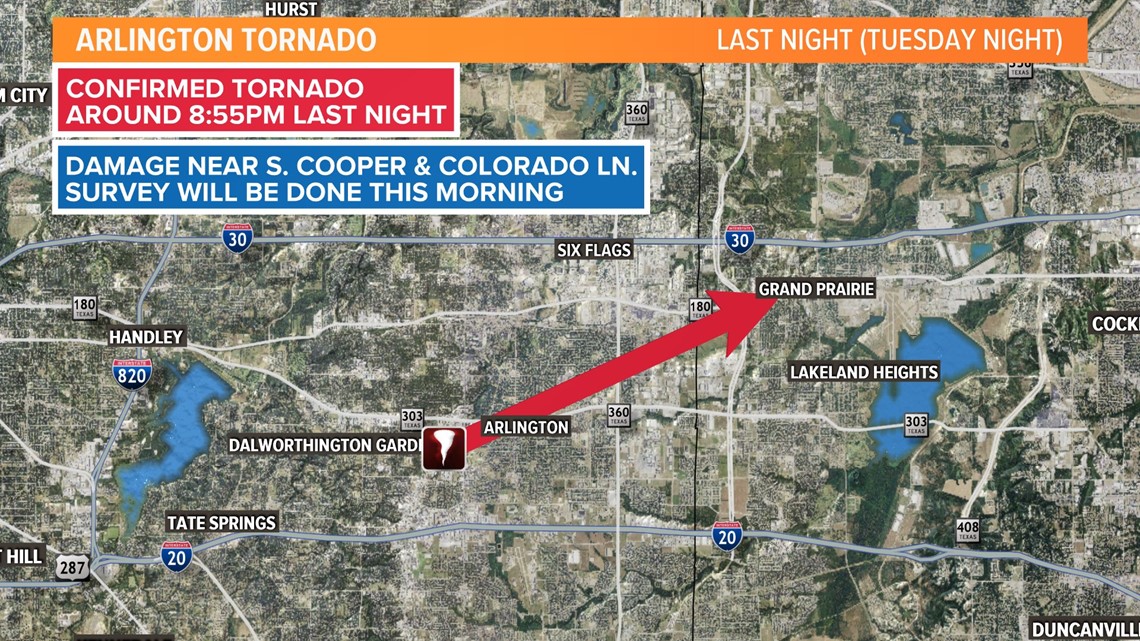 Credit: WFAA
A tornado was confirmed Tuesday night in Arlington a little before 9 p.m., with the worst of the damage around South Cooper Street and Colorado Lane.
Arlington police said late Tuesday night that its Emergency Operations Center has been activated and the department knew of at least seven reported building collapses from the night's storms, including three apartment complexes, two commercial buildings, a church, and a residential home. A significant amount of debris was also scattered through the city's roadways, and numerous traffic lights were out, officials said. One of the commercial buildings appeared to be the Burger Box restaurant, which is on South Cooper Street. A car with a family inside was in the drive-thru line when the restaurant's awning collapsed and landed on the car. The family was trapped inside the car and needed help getting out of the car but they are OK and only suffered minor injuries, officials said.
Around 75 families were displaced from the three apartment complexes as a result of the damage, which Arlington fire department officials said was wide-ranging. They were evacuated from the buildings by first responders and temporarily relocated.
The affected apartments are:
Waterdance Apartments at 2206 Waterdance Circle
Mirage Apartments at 600 Dudley Circle
Garden Park Apartments at 1609 Sherry St.
Several witnesses
described "swirling winds"
and then large booms and water pouring into the apartments. The Red Cross said the Waterdance and Mirage Apartments both lost their roofs. The storm affected more than 70 units at those apartments and displaced anywhere from 60-100 people. Two local hotels will provide those families shelter, according to the Red Cross. Pioneer Parkway was closed in both directions between Center Street and Collins Street because of debris on the roadway from area apartment complexes, police said. Police also said Atmos and Oncor are helping with downed power lines and gas leaks resulting from the storm damage and responding to disaster mitigation where necessary.
The Red Cross said it is still assessing the situation in Arlington and that due to COVID-19, it will not go to the scene, but instead will use a client assessment system via phone. Red Cross officials said they helped a combined 80-plus family from the three apartment complexes with emergency lodging and food and began working with apartment management and city officials overnight to help those affected.
For those that were significantly impacted, the Red Cross has caseworkers helping them secure lodging, food, and physical and mental health services, officials said. Anyone who was affected by the storm and needs help is encouraged to call the Red Cross at 1-800-733-2767.
For those who would like to help, and for more about the Red Cross,
click here.
The storm
Severe thunderstorm warnings were issued Tuesday evening for parts of North Texas until 9 p.m. as a cold front storm rolled through the area. The area under the warning included parts of Denton, Tarrant, Collin and Grayson counties.
Around 9 p.m., a tornado warning was issued for Dallas and Tarrant counties. That warning expired at 9:17 p.m. Just before 8 p.m., a tornado warning was issued for part of Denton County. The radar showed circulation moving northeast near Sanger, Texas around 8 p.m.
The cold front should make its way through the region by midnight.